The state of Illinois is seeing a shift in gaming revenues as more licensed gaming establishments add video gaming terminals (VGTs) to their locations and casinos lose their relative market dominance. The recent changes to Illinois gaming legislation have expanded the provisions for local bars, restaurants, and other businesses to boost their bottom line by offering slot games to their patrons.
Signed into law in 1990, the Illinois Riverboat Gambling Act of 1990 opened the door for legalized gambling in the Land of Lincoln, eventually leading to the establishment of land-based casinos in 1999. The Video Gaming Act of 2009 paved the way for VGTs to be installed in non-casino locations throughout the state, operating under the Illinois Gaming Board's (IGB) direct oversight. Most recently, the 2019 Illinois Gambling Act further expanded gambling opportunities in the state, allowing for six additional casinos, further expansion of the VGT market, and legalized sports betting. These changes in regulation have allowed for more Illinois gaming machines per location, thus paving the way for increased revenues for many businesses.
To learn more about how Illinois VGTs and casino slot machines differ from each other, read on below.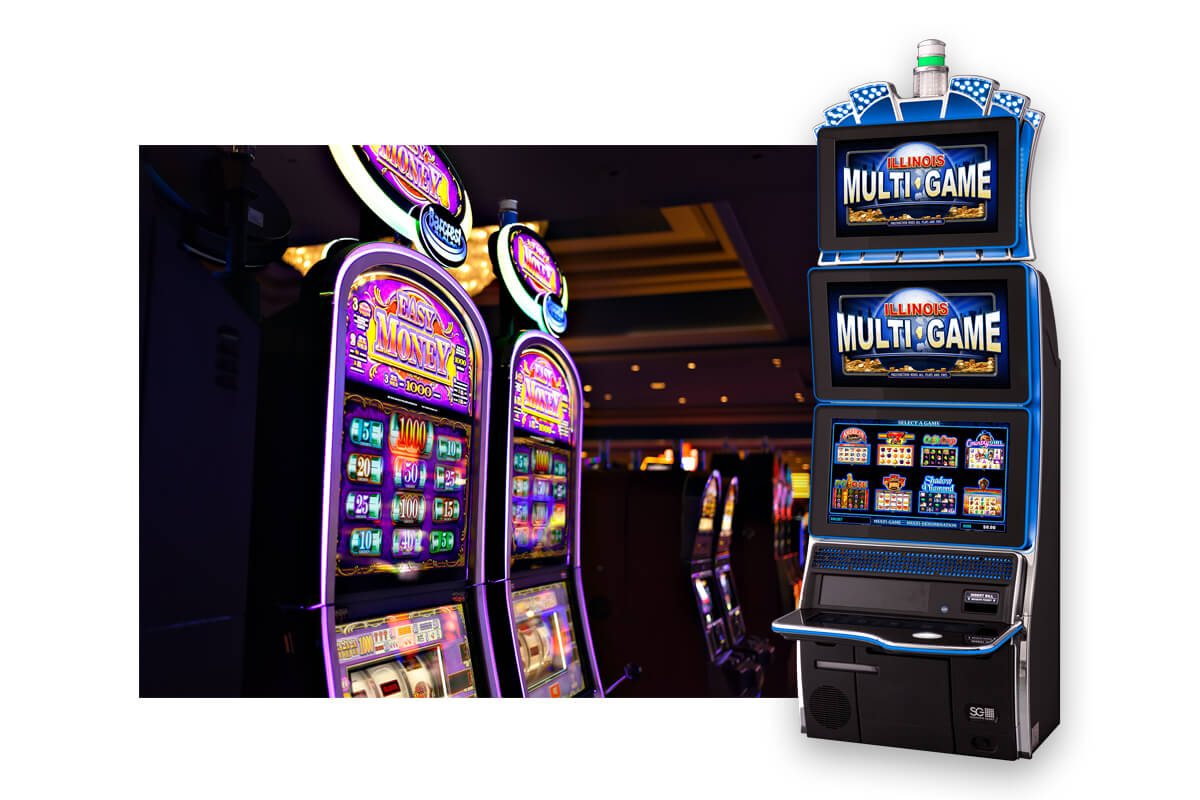 What Are Casino Slot Machines?
Casino slot machines are specifically designed so that each machine operates individually. Rather than competing against other players, a slot player bets against the house, or in this case, the random number generating (RNG) software. A win on a casino slot machine is completely random, though the maximum possible win is determined by the bet amount of each spin: the higher the bet, the bigger the potential win.
During play, the player places a bet. On modern slot machines, the RNG software instantaneously determines the outcome of the bet. The spinning reels, music and other animations add to the experience and emulate the mechanical reels of a traditional casino slot machine. For better or worse, speeding through these animations will not change the outcome of the bet.
Given the high number of slot machines – also known as gaming positions – allowed in a casino (most Illinois casinos have between 1,000-1,200 slot machines on the floor), each individual cabinet features only one game title. If a player wants to play a different game, he or she will need to move to a new machine.
What Are Video Gaming Terminals?
On the surface, Illinois VGTs look and feel very much like casino slots. The game mechanics are the same, with RNG-generated outcomes. There are a few notable differences between casino slots and Illinois VGTs, however:
Most licensed Illinois gaming establishments are permitted a maximum of 6 VGTs per location (large truck stops are allowed up to 10 positions, while some municipalities further restrict the number of VGTs per location). As a result, gaming manufacturers have developed multi-game software packs that offer, on average, between 6 and 10 different game titles per cabinet. Players can switch between game titles on a single VGT without having to cash out.
As of this writing, there are also no progressive jackpots on Illinois VGTs. The maximum bet allowed on a single spin is capped at $4, with a maximum single spin win of $1,199. Individual game titles have different bet and win structures.
Increased Revenue At Video Gaming Terminals Causes Revenue Declined for Casinos
As we have seen an increase in the number of VGTs throughout the state, casinos have seen a significant impact on their revenues. Furthermore, as the number of Illinois casinos is poised to further increase, existing casinos will face additional challenges in protecting their market share.
Why the decline in casino revenue? Simply put, the statewide number of slot machine positions has increased. With nearly 7,500 licensed gaming establishments in Illinois, players no longer need to make that intentional trip to the casino, opting instead to play without leaving their neighborhood.
Video Gaming Terminals and Casino Gaming Board Regulations
In terms of regulations, Video Gaming Terminals have different regulations to follow than casinos. In a casino, Illinois Gaming Board (IGB) agents must be present inside the casino at all times. In contrast, the monitoring of VGTs in licensed establishments is coordinated remotely. A central communications system keeps track of every single bet placed throughout the state and gives the IGB full control to remotely turn the machines off, disable services, deactivate games, and shut the machine down. IGB agents periodically inspect the nearly 7,500 locations to ensure on-site compliance.