The ongoing pandemic has affected everyone and every industry across the globe and has caused significant changes in consumer behavior. The hospitality industry has been hardest hit, and Illinois restaurants and bars have suffered the most of all major US markets. Video gaming activity – and its associated revenue – has proven to be a significant lifeline for licensed gaming establishments across the state. Indeed, video gaming proved its resilience the moment gaming operations July 1, 2020, with video gaming activity bouncing back immediately. At Universal Gaming Group, our responsibility is not only to protect our players by championing proven safety protocols, but to also help our current and future partners weather the storm and get back on their feet.
Our team actively collects and analyzes industry data, performing our own research, and keeping up with the latest news, all in an effort to develop a more complete understanding of the Illinois video gaming industry and provide recommendations to best assist our establishment partners. By following consumer trends, we can get a sense of how the industry will need to adapt to long-term shifts in consumer expectations.
On-Premise Trends: Just Over Half of All Consumers Have Recently Dined Out
According to research firm Nielsen CGA's latest November data, 54% of consumers have gone out to eat since the country began reopening in early summer 2020 (up from 41% in mid-July). Only 16% of consumers have gone out for a drink, suggesting that food occasions play a central role in on-premise visits. Those who have returned are predominantly frequent visitors who already tended to go out more often pre-pandemic, suggesting that the highest-value guests (in number of visits) are back and more likely to keep going out. In fact, 60% of consumers who have recently gone out have done so more than three times in recent months.
As we settle into winter, however, consumers have indicated they plan on going out less. We fully expect this to be especially pronounced in Illinois, where strict mitigation restrictions remain in place for the weeks ahead and outdoor seating is becoming less appealing as the weather turns.
For the 46% of consumers who have not yet returned to the on-premise, key concerns center around anxiety (not feeling safe or comfortable), health and financial precautions (self-isolating, watching finances), and worries that the experience won't be the same: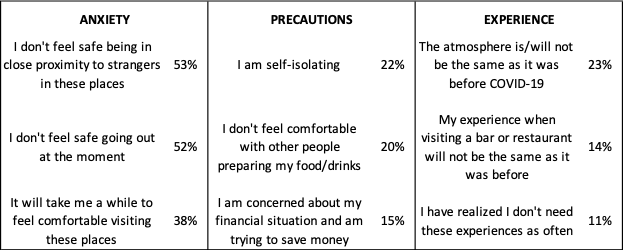 Source: Nielsen CGA COVID-19 Impact Consumer Research (November 19, 2020)
Nearly three-quarters of these consumers have indicated they will not return to the on-premise until there is a vaccine, or the threat of COVID-19 is completely gone. Others, however, indicate they plan to return once COVID-19 cases decrease or outlets demonstrate successful social distancing measures. As illustrated in the table below, three key factors will encourage consumers to return to the on-premise earlier: PPE for staff and guests, social distancing measures, and outdoor seating.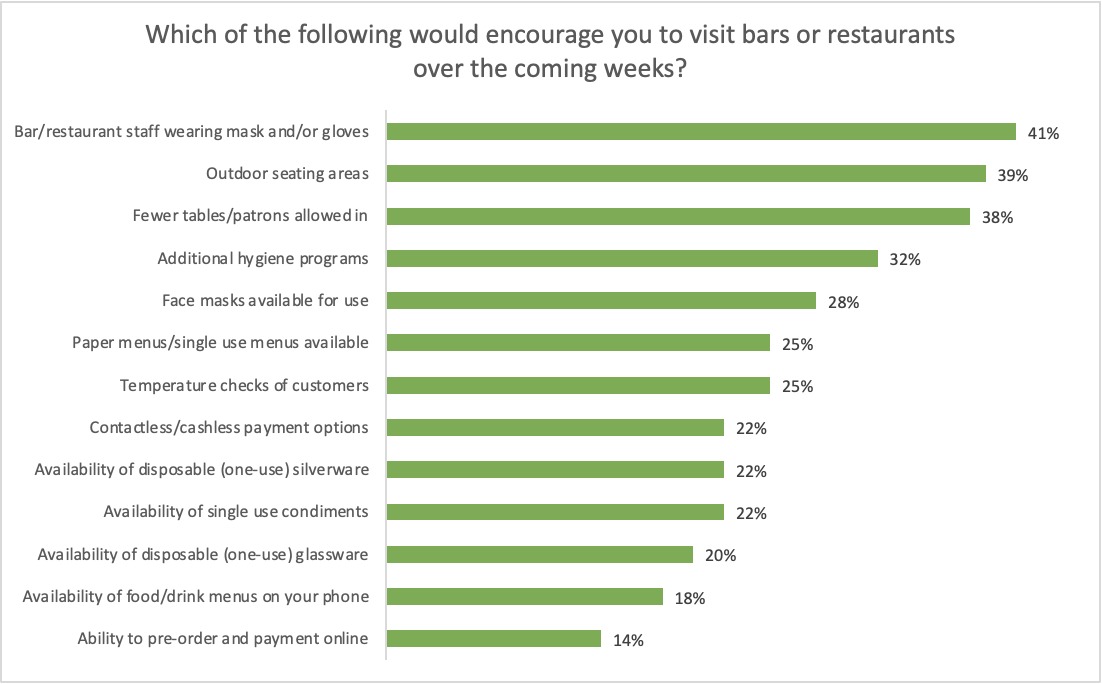 Source: Nielsen CGA COVID-19 Impact Consumer Research (November 19, 2020)
Shifting On-Premise Behavior: Consumers Looking for an Outlet to Connect and Have Fun
As most consumers carefully consider their on-premise options in the months ahead, many are making small shifts in their purchasing behavior: 63% of consumers surveyed said are more likely to tip higher than usual, while 54% say they are more likely to treat themselves on each occasion. Over 40% of consumers say they will spend more on food and drink when they go out and are more likely to trade up to more premium food and drink options. These findings suggest that while consumers are likely going out less often, they compensate by spending more – and expecting higher quality and better service – on each visit. Most importantly, consumers agree that restaurants and bars remain an essential place to celebrate, connect with family and friends, and escape the present for a brief moment.
As on-premise consumption has suffered since last spring, takeout and delivery services have experienced exponential growth. In fact, 64% of consumers have ordered take-out within the last 2 weeks, with a majority of these individuals ordering in at least once a week.
The Resilience of Video Gaming
As evidenced by monthly revenue reports published by the Illinois Gaming Board, video gaming activity (and its associated revenue) is extremely resilient. Comparing same-store revenue across roughly 6,000 statewide establishments, monthly gaming activity (as measured by Amount Played) has increased 16% for July-October 2020, compared to year-ago. We did not see the typical month-to-month fluctuations experienced in typical years (higher game play in August and October, lower in September), suggesting a combination of pent-up demand, access to disposable income, and fewer alternative activities or holiday travel.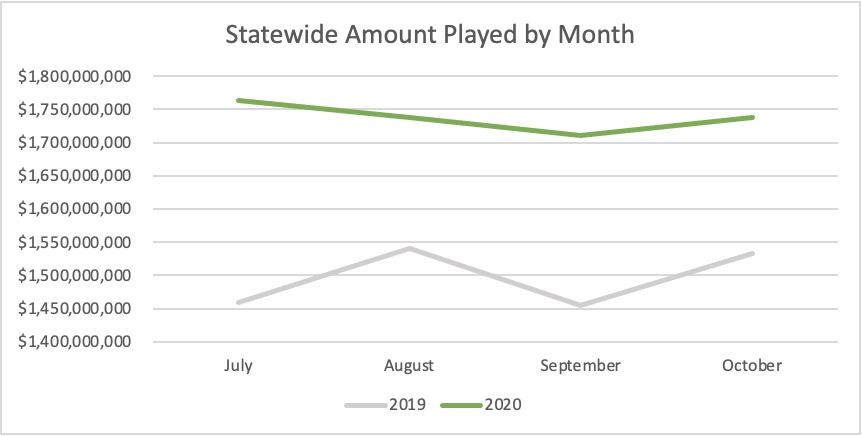 Source: IGB Monthly Revenue Reports
When adjusting for calendar days and changes in VGT count, Amount Played per VGT per day increased by 7% for the July to October time period. Gaming cafes outperformed the total video gaming market, posting 10% year-on-year growth in Amount Played per VGT per day.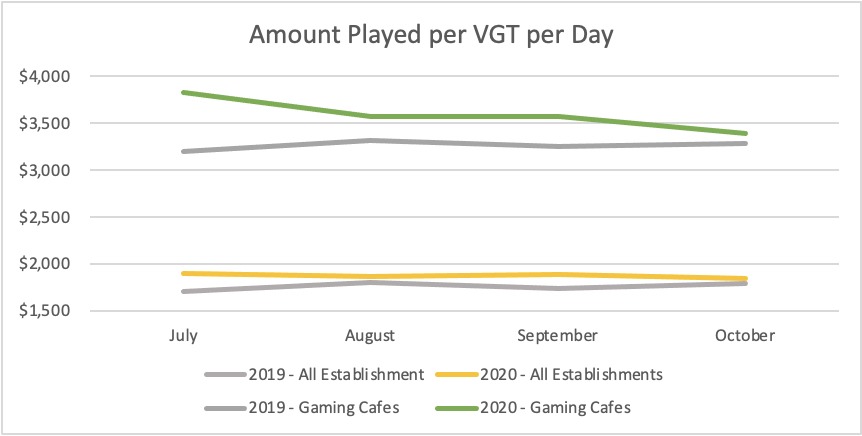 Source: IGB Monthly Revenue Reports
While state-mandated restrictions – such as the statewide shutdown of video gaming terminals and casinos experienced from March 16 to June 30, 2020, or the current Tier 3 mitigation measures implemented on November 20, 2020 – are devastating to all tiers in the industry, we can find comfort in knowing that our players will return when the situation stabilizes.
Preparing for a New Normal
As we contemplate long-term implications to the on-premise and video gaming sectors in Illinois, restaurant and bar owners may want to consider the following pivots:
Embrace curbside and carry-out services. Make sure your Yelp and Google My Business profiles accurately reflect your full range of offerings (dine-in, curbside, delivery, etc). Consider making your full menu available online for convenient ordering.
Add 1-2 upscale or unique offerings to your menu. Assess your back bar and food/drink menus; make sure you provide a trade-up opportunity for consumers looking to treat themselves. Feature and promote your signature drink or specialty menu item that helps define your establishment.
Cater to your slot players. Assess your player experience and amenities. Open early morning if possible, with a limited menu (complimentary coffee and snacks) and lean staff. Consider loyalty rewards (free play or match play) or sweepstakes (cash, prizes) to keep your players engaged.
Turn up the fun! Consumers will continue to rely on the on-premise to provide a memorable, fun, and engaging experience for family and friends to deepen their bonds. Inspire your staff to provide the highest level of service and guest experience. Make every visit memorable and encourage your customers to keep coming back!
Our UGG team is ready to help you maximize your gaming operations and overall guest experience. Call us today to take action!