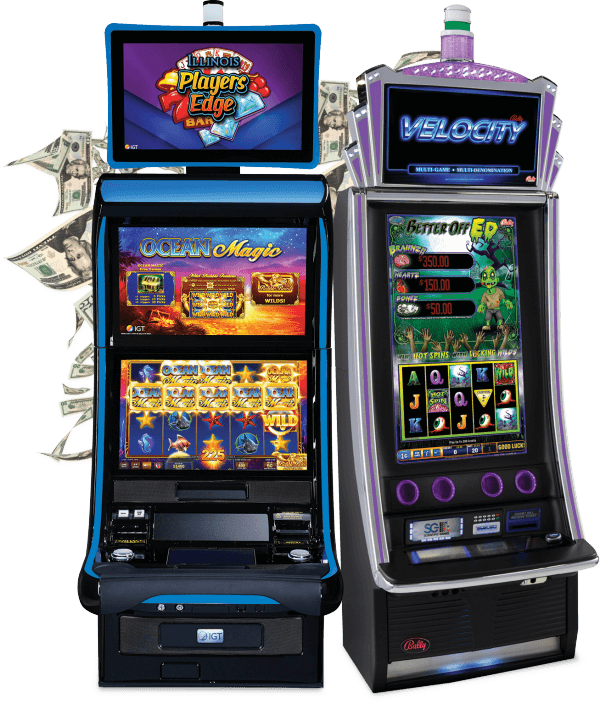 IL Video Gaming is Added Revenue
Licensed locations generate over $72,000* in additional revenue each year, on average! Plus, video gaming adds an additional amenity to your patrons!

*igb.illinois.gov, average location revenue for 2019, not counting truck stops.
Are you considering adding video gaming revenue to your business?
So what is Illinois video gaming? If you are thinking about making Video Gaming Terminals (VGTs) a part of your business, contact us today to learn how. All locations must apply for a license through the Illinois Gaming Board. Our team will be with you every step of the way; from application, to licensure, to go-live and beyond.

The Video Gaming Act allows licensed locations to have up to six VGTs installed for play by patrons. Recent legislation has allowed for increased bets and jackpots, which maximize your revenue!
Thinking about starting a Gaming Café or Parlor? We can help!
Our team is ready to advise you every step of the way. Universal Gaming Group has long-standing, successful relationships with cafe owners and operators who can attest to our experience in navigating the regulatory landscape.

As with most businesses, location is key. Universal Gaming Group can point you in the right direction when you choose to begin the process of opening your gaming cafe or parlor. Not all municipalities allow for businesses of this type, and it is best to know which way to turn before you begin. Our team will research local ordinances so you can choose the right town to open your business.
Here is aN IL VideO Gaming guide : what you can expect
Selecting a Terminal Operator for Your Video gaming Business
No two Terminal Operators are alike. Universal Gaming Group's unparalleled commitment to service, top-of-the-line equipment, and state-of-the-art partner portal set us apart from the rest of the industry. We will select the best equipment for your location and ensure it is installed to the highest standard.

Additionally, our field service staff is the best in the industry; ensuring your games remain in service and generating the most revenue for your business!
Location is key. Make sure you select the right one
Not all IL municipalities allow video gaming locations, and out of those that do, some limit the number of locations allowed to have video gaming. Make sure you are fully informed before you begin the process. Our team stands by to advise you.
Obtaining Your Local and State Liquor Licenses
The Video Gaming Act requires all retail locations to obtain an IL liquor license in order to apply for a Video Gaming License. Both the local and state liquor licenses must allow for the on-premise service of alcoholic beverages. Additionally, establishments are required to carry the requisite insurance as a condition of licensure.
Apply for your license
A member of our sales team will meet with you to obtain all the requisite information for your location's Video Gaming Establishment License. Once submitted, the Illinois Gaming Board requires all owners to be fingerprinted and undergo a thorough background check. Afterwards, an Illinois Gaming Board agent will arrange to meet you and any other owner of your business. The agent will inspect your location, review your licenses and interview all owners. If you have everything in place, your location will be considered for licensure by the Illinois Gaming Board at one of its monthly meetings.

If approved, UGG will install your equipment within 14 days of licensure.
Now you've hit the jackpot!
It's perhaps more realistic to expect the process of launching an Illinois slot machine business to take about a year. However long it takes and no matter how tired you feel, don't just declare the place open and let it go at that. Open in conjunction with a marketing push and promotions. Word of mouth, social media, and perhaps even paid advertising can make the difference between success and failure. If you have come this far and are still asking "what is Illinois video gaming?", please give us a call. We can guide you through the process.