Spielo's Big City 5's – VGT Game Review
Big City 5's is one of Spielo's best games in gambling. The metropolis comes to life with the bright lights and bonus packed action in this five reel old school game.
It is a testament to the success and market share of the company's orders in the industry that Spielo has sold over a quarter of million slots machines. So, it is not surprising that Spielo releases a supply of new games with exciting mechanics every now and then.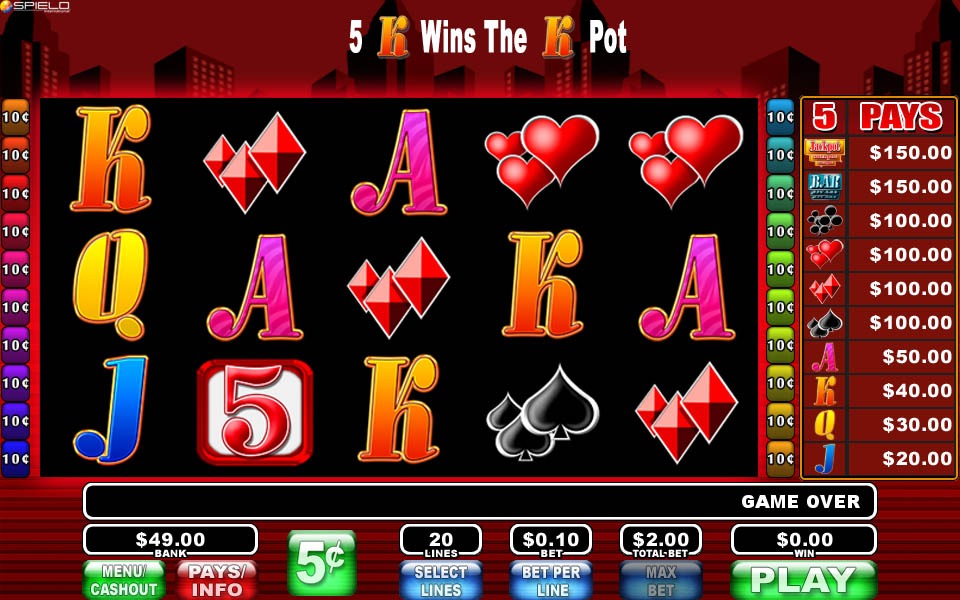 Gameplay
Spielo's Big City 5's is something that both new and seasoned players can enjoy. Spielo's Big City 5's has five reels and twenty pay lines. This exciting game is packed with frequent bonus actions and two tiered progressive bonus pots!
Big City 5's pays for 3, 4 or 5 identical symbols in a row, left to right only. Each of the ten symbols has their own progressive bonus pot! All line wins of a specific symbol will add to the corresponding symbol's bonus pot. The Bonus Pots are awarded for wins of 5 in a row during regular spins. These bonus pots are capped at $599.50 or $1,199.00 depending on the symbol.
The Big City 5's Bonus Round is triggered by 3, 4 or 5 iconic "five" symbols appearing on consecutive reels and starting on reel 1. A player can be rewarded 15 to 25 fever games while also having the opportunity to win additional fever games during the bonus round. During the fever spins the "jackpot" symbol becomes wild on reels 4 and 5.
One way in which Spielo certainly shines is that they are not scared of taking chances. Nevertheless, they are not the kind of developer that wants to alienate its existing players with any new features and incentives.
Adding new features while keeping perfection in mind is what Spielo focuses on. You can clearly see this in the gameplay of Big City 5's, which comes with a polished user interface and smooth lag-free gaming. To make winning more regular, a simple wild card is used to fit the simplistic yet exciting symbols. This including playing card symbols, like spades or diamonds.
Graphics
While the graphics are not ground-breaking, it does the job! A minimalistic city background with high-quality audio sets the mood of any player. Should you be fascinated by imagination and amazing animation, you must try Spielo's Big City 5's.
Who knows — with your luck and skills, you might start winning from the get-go. Therefore, you should try for yourself, and if you enjoyed this, we also recommend that you try out their newest game Bigger City 5's.