Illinois Video Slots: Why Play?
As of 2009, gambling on video slot machines is legal in Illinois at licensed bars, restaurants, truck stops, and veteran and fraternal organizations. You may not need any persuasion to play. You may already know it's fun. But if you're still on the fence, here are five reasons to try your hand.
You don't have to go to a casino to play. In all likelihood, there's a smaller, homier local establishment where you'll always find a personal and welcoming atmosphere.
Because you'll be playing among friends, they'll know when you win big. You can bask in their good wishes; or savor their bitter envy, whichever you prefer.
You can enjoy the other amenities the video gaming establishment. Enjoy a beer or something stronger, a snack, and watch your favorite Illinois team on TV.
Playing is fun! Whether you prefer to play solo or with a friend, you'll enjoy playing your favorite games.
You're boosting your town's economy by supporting a locally-owned and operated small business.
With all that said, the mere desire to play isn't quite enough. You also need to know how to play. So let's address that next.
Illinois Video Slots: How They're Put Together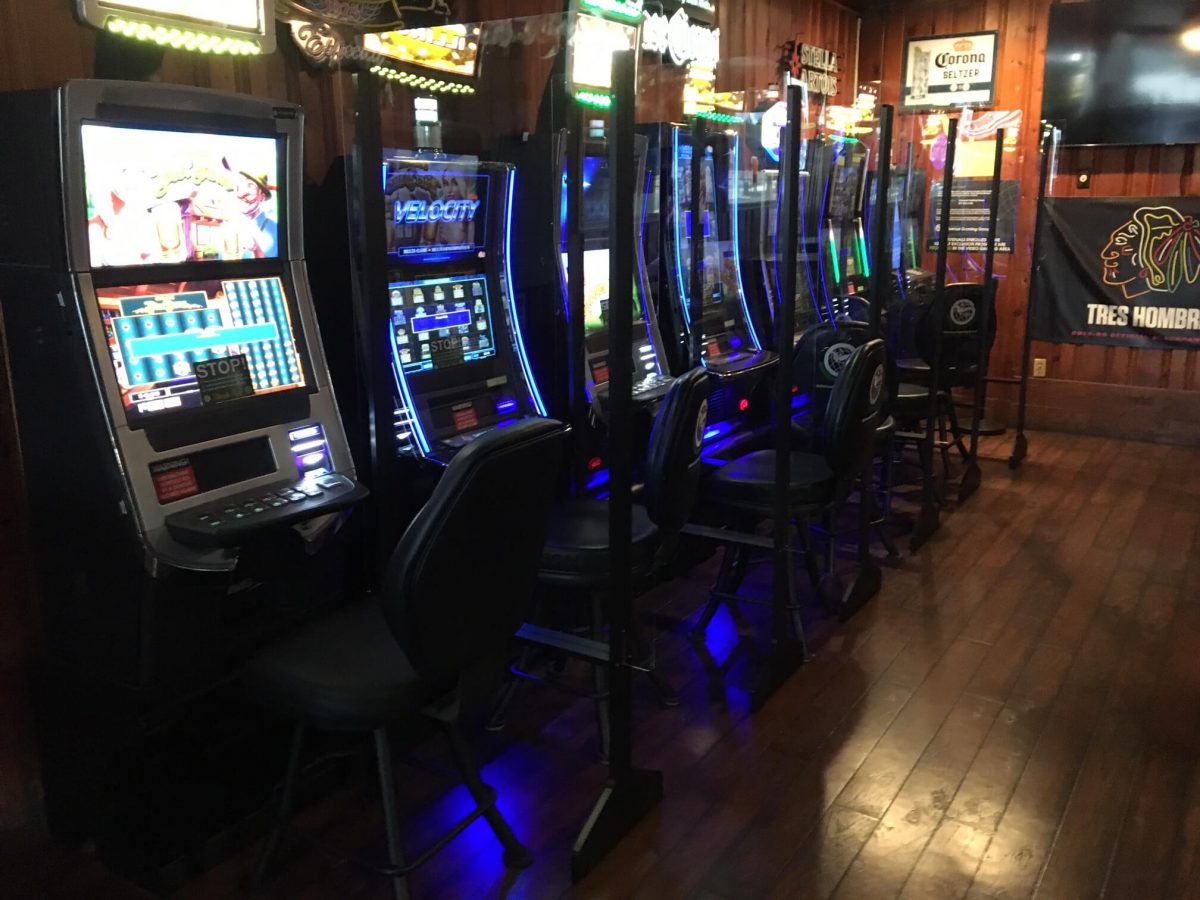 To play a slot machine, it's helpful to know the various components.
First, there's the payout table. This explains how the video slot machine pays out and also tells you about the symbols, rules, bonuses, and jackpot. Generally speaking, you'll find the payout table at the top of the machine. Or you can get it to appear on the screen by pushing a button.
The initial sections of a payout table detail the symbols that make up various paylines, what the payouts are, and other rules. A bit farther on, you'll find an explanation of the scatter symbols and wilds.
Scatter symbols often connect to the visual theme of the slot, and it's usually not necessary for them to appear on the payline to have an effect. Generally speaking, if three or more appear anywhere, it activates a bonus feature. The bonus feature can be something as simple as a certain number or free spins, or there could be a second spin bonus round that gives you the chance to win extra money.
Then there are the reels. Nowadays, VGTs simulate spinning drums electronically, but the reels do the same job as they did in an old-fashioned mechanical slot machine. When they stop spinning, the symbols they display determine whether, and how much, you've won.
Illinois VGTs don't pay out cash or coins. Instead, you'll get a printout voucher that can be redeemed for cash at the nearby Redemption Terminal.
The spin button takes the place of that old-fashioned lever. Push it and the reels spin. Some VGTs also have an auto-spin button that will keep the machine making plays automatically until you instruct it to stop.
The bet button lets you adjust the size of your bets. You'll find this button on video gaming slots that operate on credit instead of taking coins.
How to Play Illinois Video Slots
With all that said, playing a VGT is actually pretty simple. You just follow these six steps.
To start, familiarize yourself with the information in the payout table.
Next, determine how much you want to bet.
After that, decide on the number of paylines you want to play at once and how many coins you're going to bet per line.
Now push the spin button and see what comes up on the reels.
If the reels came up with a payline, you'll collect your winnings.
Finally, press the spin button again to make your next play.
You don't have to be a math whiz to have fun playing slots, which makes them perfect for the majority of us who aren't expert gamblers. So if you want to find out what video slots are all about, try your luck!
Universal Gaming Group is committed to full compliance with all Illinois Gaming Board (IGB) regulations and working with the Board to ensure a safe gaming environment.