The CDC has provided a roundup of what the experts know so far. We have summarized the information here for you, with recommendations on how to keep your gaming area and establishment up to par with latest updates.
What Is The Coronavirus?
The coronavirus (or COVID-19, to give it its proper scientific name) was first detected in China and cases have now been confirmed in several countries including the US. It's believed to have originated in animals before jumping to people.
The symptoms can take anywhere from 2-24 days to develop (after exposure) and include coughing, shortness of breath and fever. In some cases, patients also experience headaches, fatigue, or diarrhea. Symptoms can range from mild to severe, and in rare cases even result in death.
How Does It Spread?
Scientists believe that the primary means of transmission of COVID-19 is now person-to-person, with the virus passing between people who are within six feet of one another when the sick person coughs or sneezes and respiratory droplets land in the mouth or nose of the person who is about to be infected.
It's also possible that a person can contract the coronavirus by touching a surface or object on which the virus is present and subsequently touching his or her mouth, nose, or eyes.
Naturally, you want to make sure customers don't get sick with COVID-19 (or anything else) as a result of patronizing your Illinois video gaming business. You likely also want to be able to assure your patrons that appropriate measures are in place to ensure they don't get sick. We hope you'll find the following recommendations helpful:
The Coronavirus and Person-to-Person Transmission
As noted above, COVID-19 mainly passes from person to person. As such, you don't want your patrons or employees to get it, and if they have it (and perhaps don't know it yet), you don't want them passing the illness along to anyone else. With that in mind, we'd like to suggest some best practices to minimize the possibility of person-to-person transmission (of coronavirus or any other bug, for that matter) in your video gaming parlor:
Don't touch your eyes, nose, or mouth (This is a hard habit to control, but helpful if a person can manage it)
Wash your hands frequently and thoroughly, using soap and warm water, for at least 20 seconds. We recommend washing hands before you eat, before and after visiting the bathroom, after coughing, sneezing, or blowing your nose, and whenever you can see your hands are dirty. Should soap and water be unavailable, you can use an alcohol-based hand sanitizer with at least 60% alcohol content

Cover your cough or sneeze with a tissue and promptly dispose of the used tissue in the trash
Avoid close contact with people known to be sick

If you suspect you are sick, stay home
Surface-to-Person Transmission of Flu virus, Coronavirus, and other bacteria
As indicated above, we now know the coronavirus may also be transmitted when someone touches an object or surface on which the virus is present, then touches his or her mouth, nose or eyes. According to the CDC, the basic way to combat this is to clean and disinfect frequently touched surfaces or objects with a regular household cleaning spray or wipe.
As we're certain you're aware, the video gaming terminals (VGTs) in your Illinois gaming establishment qualify as frequently touched objects. No doubt you knew it was already highly desirable to keep the VGT area clean to maximize its appeal to customers, but now there's another good reason to do so.
As it happens, there's a technique to properly disinfecting a surface. We recommend you do the following:
Wipe in one direction. Otherwise, you run the risk of cleaning a surface and immediately re-contaminating it.
Make sure the surface stays wet for a while. If you wipe away the disinfectant too quickly, you may not kill all the germs. There are likely instructions concerning this on the bottle, and they often indicate the surface should remain wet for four full minutes (this means it's sometimes easier to disinfect large surfaces with a spray bottle).

Don't use the same wipe for everything. Discard wipes and start using a new one frequently as you disinfect.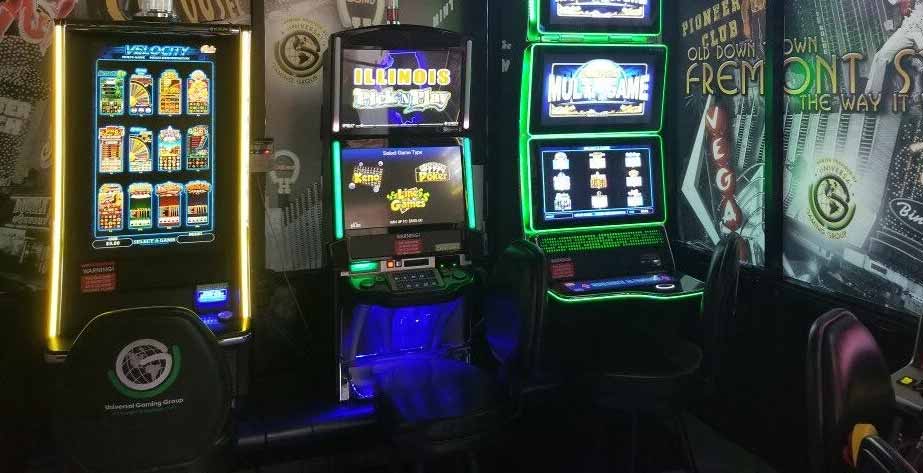 Universal Gaming Group has already provided some useful general tips for maintaining your VGTs and gaming area. They provide a good starting place for guarding against the spread of COVID-19 (or other illnesses), so let's recap them:
Dust VGT cabinets regularly. Wipe them down with a cloth moistened with water, then polish with an anti-rust and anti-corrosion solution.

Dust the bill validator. It's easy to overlook this component of a VGT even if you're trying to be diligent about keeping it clean.

Keep the general gaming area clean. Get rid of trash regularly and clean up spills as soon as they happen.
We hope this information is helpful. Please turn to the professional team at Universal Gaming Group with any questions or needs pertaining to keeping your Illinois gaming parlor environment appealing and entertaining for your customers.